Before visitors entered Doka's formwork world, during last Bauma exhibition (www.bauma.de) they immersed themselves in the world of digitisation. In the Digital Services area, the most recent digital solutions and services from Doka could be tried out on a total area of 225 m². The range of digital services was presented in three subsections – Smart Jobsite, Smart Assistants and Smart Planning. This put Doka's main focus on digital solutions for optimising procedures on site and contributing significantly to a productivity boost in the construction industry. Simplified working procedures, more transparency and better quality in execution were the central aspects of this digital Doka drive.

The Doka AR-VR app (www.doka.com/ar) enabled customers to experience selected Doka solutions in augmented and virtual reality. The digital services range from projecting Doka formwork on to printed plans through positioning 3D models in their surroundings to taking virtual reality tours of the Doka formwork solutions. A 3D view of the models and QR code readers complemented the app's functionality. Some 3D models even let viewers show and hide certain components and watch animations of the set-up procedures.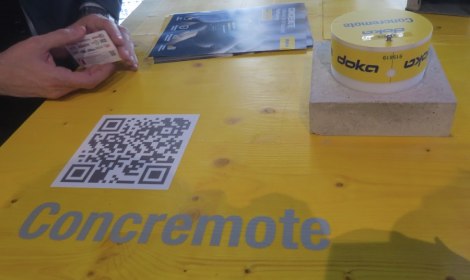 Concremote (watch the video for an overview) is an innovative service that has established itself as an indispensable partner on numerous construction sites. The unique digital measuring and decision-supporting system that measures concrete strength development on site and in real-time now comes with a range of software and hardware innovations. Among others, the new web portal features FORECAST for predicting strength development and SCENARIO for comparing several concrete formulations as well as the new Concremote App deserve special mention.

Virtual construction is set to become a standard tool in the near future. Networking and automation of the "real construction site" will continue to increase. For Doka, this means that with VDC/BIM (Virtual Design and Construction/Building Information Modelling), formwork solutions can be matched even more closely to the planning and construction process for any given building, contributing significantly to the success of the project as a whole. Customers enjoy specific benefits, including the ability to access up-to-date information on the building at any time and run simulations to check construction progress, cost and safety.

The myDoka customer portal offers first-class customer service. Customers have convenient access to their specific project or site information at any time from a PC, tablet or smartphone, an ideal interface to the Doka team. Over the past few months, software engineers have worked intensely on further enhancing myDoka. The online portal is now even more user-friendly, structured and intuitive. Its new functionalities make it even easier for customers to manage their projects and jobsites.