The E&E Congress 2021 took place 15-17 June and for the first time was held as an entirely virtual event. The Congress was attended by 800 asphalt and bitumen professionals from 48 countries during the three days of streaming.
The 7th E&E Congress, organised by EAPA and Eurobitume, was scheduled to take place in Madrid, Spain in May 2020. However, with significant travel restrictions, health security and lockdowns around the world amid the global pandemic, it was decided that the only responsible option for the Congress would be to postpone to 2021 and finally, to be transformed into a fully virtual format.
Frank Michael Biel, current President of Eurobitume, commented on this during the Opening session: "Last year was unusual and we all faced challenges for many reasons. However, by adapting and finding solutions as an industry, we have been able to contribute both socially and economically, even if we had to get used to a different kind of life." And he added: "By transforming the Congress into a virtual format, we have been able to keep the key benefits as well as introduce new ones that are now very much part of the way we live today."
The asphalt and bitumen community showed that is was ready to push ahead with innovation, sustainability and efficiency to promote the future mobility solutions, as per the congress overall theme 'Asphalt 4.0 for future mobility'.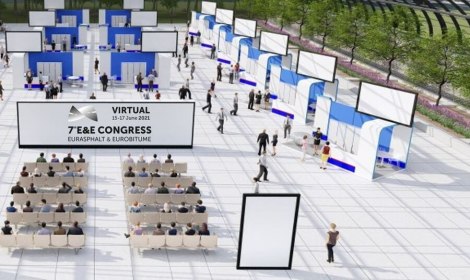 Juan José Potti, current President of EAPA and ASEFMA stated: "During the Congress I especially liked the very high level of technical content in the technical sessions. Daily sessions were informative and dynamic thanks to all the interactions in the chats and social media. I also appreciated the results from live sessions and technical sessions related to Asphalt 4.0, with more than 15 communications presented related to this theme. I sincerely believe that we are taking a great step forward for the sector. From my point of view, it is urgent and very necessary that the digital transformation will be a reality in our activities."
In total, the congress reached 800 participants from five continents, including 97 exhibitors and sponsors from 40 companies in 36 virtual booths and more than 118 speakers during 21 sessions.
The data referred to, showed the great participation during the three days of the live congress. At the highest point there were over 500 participants online attending the technical programme sessions and up to 34,000 visits to the exhibitors' booths. A big added value for all participants is that the virtual platform is still available with all content on demand for the next three months, until the 15th of September.
The E&E Congress 2021 was delivered successfully addressing new ideas to make the bitumen and asphalt industry even more innovative, sustainable and responsible, taking positive actions together with all agents and stakeholders involved.