From Lombardy to Veneto, along the itinerary that will lead to the 2021 World Ski Championships and, looking even further ahead, to the 2026 Winter Olympics, already designated and designed under the sign of environmental sustainability. This is a road also traveled by an innovative company, Vita International, having headquarters in Travagliato (Brescia) and installations throughout Italy and Europe, among which we choose an emblematic one precisely because it concerns two roads in Cortina.
The president of Anas, Claudio Andrea Gemme, who is commissioner for the roads (including its eco-tech aspects) in Cortina, also spoke to us about this present and future capital of road innovation, in the interview that opens this issue. Let's go back to talking about it now from another perspective, which however has more than one point in common with both the environment and innovation. The barriers supplied by Vita International were laid right along the Alemagna State Road 51, a large artery managed by Anas, in the locality of Acquabona (Mirabella model, H2 bridge protection in Corten steel and solid wood and Leonessa model, H2 lateral edge in steel Corten and solid wood), for a total of about 2 km of extension and from km 99+500 to km 116+400 (Garda model lateral edge and Iseo bridge protection in Corten steel and solid wood). Another application therefore concerned the Rumerlo area, where a total of 500 m of barrier model Bormio (H2 bridge edge in Corten steel and laminated wood) and Cortina model (N2 lateral edge in Corten steel and laminated wood) were installed.
The double life of the barriers
Here we limit ourselves to proposing a summary on the subject, with the help of what Matteo Possi illustrated during the Pereto conference "A new vision for road safety" last September. The speaker, from Vita International, focused on the durability and design characteristics of "Corten" (a material that does not actually require maintenance), as well as on the wooden, solid and glulam claddings, both present on the roads of Cortina. The first evokes full adherence to the natural context, replicating, so to speak, its "eternity". The second, on the other hand, combines at obviously green times, even the concepts of modernity, furniture, care, perfection.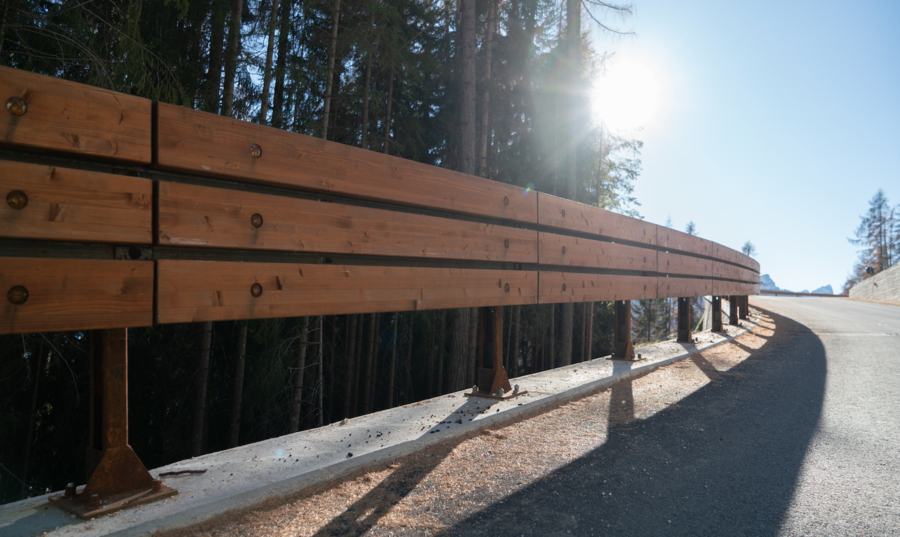 In both cases, Possi said, "wood no longer has a structural function for the safety device, but becomes a cladding, a dress, a decoration that allows the steel barrier to be guaranteed for the duration ensured by the steel itself". Beauty and durability, therefore, but above all, safety. A subject in which the Vita specialists have more than twenty years of experience. The results are products imagined, conceived and designed to protect, resulting in a wide range of barriers, certified both without wood cladding, and also with solid and laminated wood. With an advantage of great appeal: the possibility of applying or removing the "dress" to Corten structures without precluding aspects such as safety, durability and aesthetic value of the product, but also and above all its certification. For example: a road manager, for reasons of economic sustainability, can also choose to install the barrier and its cladding in successive phases. Or, in the event of an accident or deterioration of the devices, it can decide whether to replace the cladding or opt to keep only the barrier.
All-round protection
If Corten steel is durable in itself, the sophisticated work that Vita's specialists also do on the wood material should not be overlooked. The Scots pine that gives rise to the solid wood elements, for example, is subject to preservative treatments in an autoclave, as required by normatives, as well as adequately protected are the laminated wood components, which are also subject to the constant action of external agents, atmospheric or biological attack.
What remains to be added, from Vita International, is the vo- cation to pay attention to the specific needs of contexts and customers and above all innovation. The same vocation led to the development of a wooden element housing LEDs, intended to illuminate a recently rebuilt bridge over the Lambro river, in Monza. From Veneto, therefore, we returned to Lombardy, following the thread that certain materials and certain technologies know how to weave when the goals to be achieved are called safety and quality.