After bringing new and clean light, among other things, to the Spinea junction (Passante di Mestre, concessionaire CAV), Verona Est (A4, concessionaire Autostrada Brescia-Padova), Cava dei Tirreni (A3, concessionaire Autostrade Meridionali), San Michele all'Adige (A22, Autostrada del Brennero) and also landed in the heart of the Peninsula, to be exact near the highway junction of Fiano Romano (North Rome), Motorway A1, concessionaire Autostrade per l'Italia, the GLight innovation developed by Roadlink (Vita International group) with the collaboration of AstepON has brought its trail of eco-sustainable visibility even near the toll booth of the A14 motorway in Casalecchio di Reno, Bologna, road also managed by ASPI. Actually, in a prominent logistic crossroad of our motorway system (junction A1-A14).
In Bologna, as well as in the other locations we have mentioned, the G-Light LED system (GuardLED technology, the system which combines in an excellent way passive safety, the active one and harmony with the environment) was proposed and installed to improve the lighting of transit areas, with significant benefits not only in terms of road safety, but also of environmental sustainability (clean light from below, according to the GuardLED approach).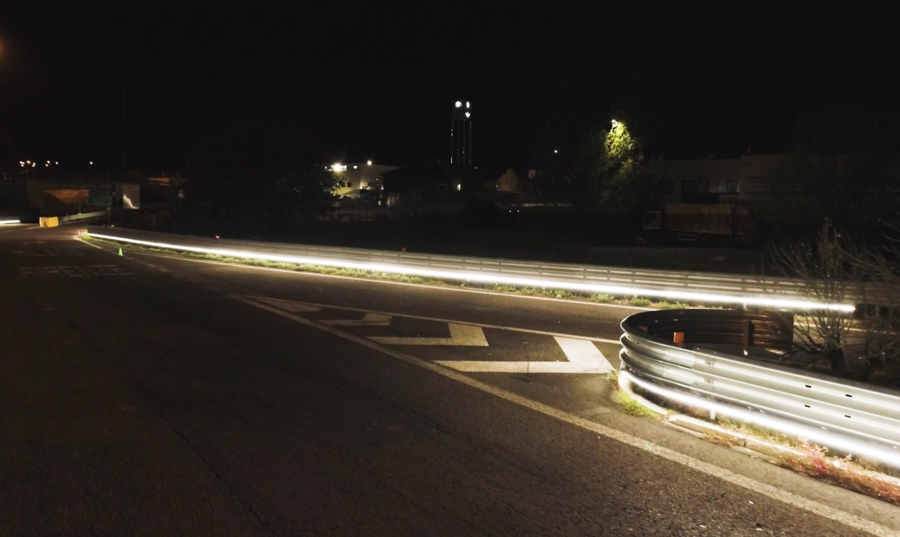 G-Light, on the other hand, is also distinguished by an enviable versatility: it can be installed both on permanent barriers, in steel (as in Casalecchio) and New Jersey, but also on wood (a textbook example is in the center of Monza) and temporary Mini-Guard type, without ever affecting operation nor performance.
The system is composed of an extruded PVC sheath (customizable), LED strip, sealing with two-component polyurethane resin, internal cables which guarantee a continuous line power supply, Khatod GuardLED asymmetrical street optic series and DTP connectors. Among its strengths: simple installation on existing equipment, elimination of singular points of illumination in favor of a continuous solution for the benefit of users and operators, improved visibility on the traffic side, energy saving and significant reduction of light pollution, reduced operating costs also by virtue of adoption of performing and durable materials.