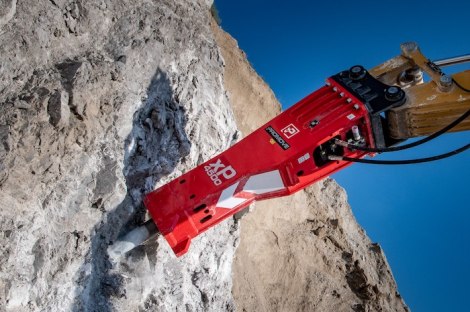 Having manufactured hydraulic demolition equipment in more than 50 countries for more than 30 years, Promove of Molfetta, Italy, is the expression of Italian "creative know-how." Now, Promove has introduced the innovative e-Breaker™ system, which allows remote monitoring and control of equipment in real time. e-Breaker™ enables owners and managers of fleets to know exactly where their equipment is and how it is being used, and allows them to maximise and optimize the production by tracking the hammers' productivity.

Users can access information via a web application on their PC, Smartphone, or tablet to keep track of the total working hours of the hammer, schedule service and maintenance interventions, get real-time visualization of the equipment's last 10 positions, prevent theft by receiving alerts of unauthorized movement, and keep records of the maintenance interventions carried out.

The innovative e-Breaker™ system is available on the XP Line of Hydraulic Hammers which has been designed to make the work easier thanks to the high performance delivered. Blank firing prevention system ensures that the hammer cannot be operated until pressure is placed on the tool. It also protects the tool from failure and tie rod stress, reduces oil overheating, and protects against premature failures decreasing both operating and maintenance costs.


The XP series boasts an energy recovery, a power/ frequency automatic regulation system. The innovative smart valve with the "plug and play" feature allows users to install the breaker without having to adjust any settings on the excavator. In addition to significant time and cost savings, this feature eliminates future problems such as premature breakages due to extra flow. This system also allows the breaker to be moved to various machines, making it easier to rent equipment. For those looking to match a hydraulic breaker with a mini excavator, consider Promove's five-model light range, which weigh 60-430 kg.

Promove is also pleased to announce some innovative enhancements to the XP line. The new 165kg XP 151 replaces and improves the old XP150. It is designed specifically for jobs that require greater delicacy and collateral damage control, offering incredible versatility thanks to its constitutive technology. Shock protection absorbers, mounted above and below the hammer body, avoid vibrations and damage to the excavator arm. The nitrogen valve is easily accessible for faster and more efficient gas control or for refill operations. A low-pressure chamber improves the energy at each blow and, together with the increased diameter impact mass, produces a more powerful blow.

The real new addition to the family is the 3,800kg XP3800, which places itself between the XP3100 and XP4500, offering a perfect fit for excavators in the 37-60t range. Applications such as tunnelling and underwater work will be an easy game for this little giant, thanks to its tool diameter of 170mm and an impact energy of 14,500 J, making it one of the most powerful hammers on the market for its weight. Moreover, like its XP "colleagues," it is equipped with anti-blank firing system, impact force regulating valve, easily accessible valve for nitrogen charge and control, automatic greasing system, shock absorbers to reduce vibrations and stresses on the supporting arm, spurs made of Hardox, and special anti-wear plate that makes this breaker indestructible.