The all-new Cat® D6 dozer delivers new levels of efficiency and performance with a choice of Electric Drive or Fully Automatic power train. A redesigned purpose-built VPAT dozer offers best-in-class grading, while updated technology features help operators to be more productive from first pass to finish grade. Customer profitability is enhanced with up to 35 percent better fuel efficiency and reduced service and maintenance costs. An all-new cab resets the standard in comfort, while a range of configuration choices helps customers optimize machine performance for business needs. At 161 kW and an operating weight range of 21 749 – 24 097 kg, the new D6 replaces the versatile D6T bulldozer.
This next-generation dozer offers a choice of advanced power train: the D6 XE with Electric Drive or the D6 with a fully automatic 4-speed power shift transmission.
The D6 XE is the world's first high drive Electric Drive dozer, offering up to 35 percent better fuel efficiency and increased agility compared to the previous 3-speed model D6T. Constant power to the ground, continuous push and greater maneuverability mean faster cycle times, making Electric Drive a top choice to achieve the highest level of productivity and fuel efficiency. Added D6 XE productivity and reduced fuel cost mean customers looking for these benefits can expect to see payback of the added investment over a D6 in less than two years.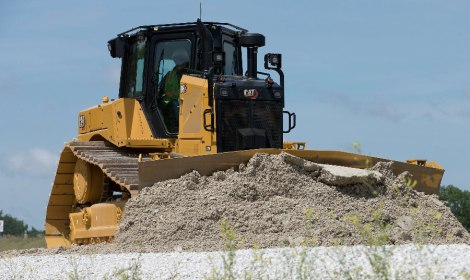 The D6 XE features a next-generation Electric Drive system that offers high performance along with added durability. Simplified diagnostics and the serviceability advantages of a high drive dozer help reduce service and maintenance costs. The D6 is powered by a 4-speed fully automatic transmission that provides increased productivity and up to 20 percent better fuel efficiency versus its 3-speed predecessor. The fully automatic D6 reduces momentary hesitation when the traditional machine shifts, so more momentum and drawbar power are maintained through the entire push. Caterpillar engineers designed the auto shift to work up and down the entire working range, so power to the ground and fuel consumption are optimized for a greater percentage of the time. An added gear between first and second ensures more seamless shifting.
Both power trains offer unprecedented ease of operation. The operator simply sets the ground speed and the dozer continuously optimizes for maximum power and efficiency based on load. With Electric Drive, there are no gears to shift. The fully automatic 4-speed power train optimizes the transmission without the operator having to worry about shifting.
Finish jobs faster by grading at higher speeds with a new purpose-built Variable Power Angle Tilt (VPAT) dozer. The newly designed structure is stronger, yet lighter, so machine balance is optimized for grading without the need for a rear implement or counterweight. A wide gauge LGP VPAT design, with 915 mm centered shoes, puts more track on the ground to achieve 0.73 kPa (5 psi) ground pressure. Wider VPAT blade and class-leading range of motion improve performance, especially in trenching and backfilling applications. A new optional finish grading undercarriage has 10 bottom rollers for smoother grades at higher speeds, even in difficult surfaces like sand and gravel.
Increase overall jobsite productivity by up to 50 percent with a choice of Cat Connect GRADE technologies. Technologies range from standard Slope Indicate to full factory-integrated GPS, all supported by Caterpillar and Cat dealers.
Technology offerings on the D6/D6 XE are led by an updated, factory integrated Cat GRADE with 3D system. The new 254-mm touch screen offers a more intuitive operator interface that works like a smart phone, making it easy for operators to pick up quickly. The system uses advanced Inertial Measuring Units (IMU), which provide greater speed and accuracy without position sensing cylinders. Smaller antennas are integrated into the cab roof for even better protection. AutoCarry™ is included with Grade with 3D to automate blade lift to maintain desired blade load, improving load consistency and reducing track slip.
A completely redesigned cab raises the standard in comfort and productivity. A brand new 254 mm touchscreen display provides an easy-to-use operator interface. The standard air suspension seat is wider with added backward adjustment, plus the entire armrest adjusts independent of the seat for customized comfort. Heated/cooled leather seat options are available, and all offer a variety of seat adjustments to customize cushion length, head rest position, lumbar support and seat tilt. More storage spaces have been added throughout the cab.
The new dozers are easy to operate too – with Electric Drive or the Fully Automatic power train, operators just need to set the ground speed and go. The machine optimizes performance and efficiency with no added shifting required. Agile turning, especially on the D6 XE, mean faster cycle times and more ability to work in smaller spaces.
Distributed cab heating/cooling, with automatic temperature and blower control, circulates air more effectively around the operator. Less air directed toward windows helps reduce fogging/frosting. Integrated ROPS and 15 percent more overall glass area help increase visibility.