An over-thirty year experience in the industry of hose reels serving the lifting sector (cranes truck, mobile cranes, all terrain cranes, forklift trucks, telescopic handlers, etc…), a distributors network capable of providing expeditiously, both in Italy and abroad, every single product from a wide selection of hose reels: over 1000 standard models presenting more than 5000 versions, without considering the designed and custommade solutions we provide.
Welcome to Demac, located in Magenta, on the doorstep of Milan. This company stands as the epitome of "Made in Italy", based on functional tactics. Demac has proved its leadership by focusing on quantity, but mainly on quality, as we have witnessed. A few certificates have displayed its worth: from UNI ENI ISO 9001:2015 (quality), to OHSAS 18001 (health and safety), as far as UNI EN ISO 14001:2015 (environmental management system).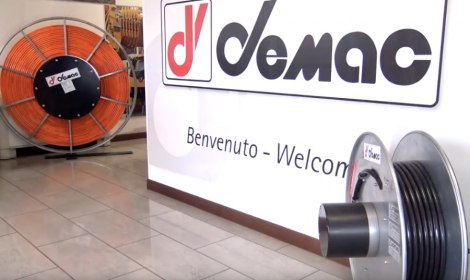 Sustainability, quality of products and excellent customer service represent just a few of the many focuses of the company's vision. Founded in 1981 by Domenico Varano, Demac is led by its founder and his two sons, Fabio and Laura, among other people. Through its main achievements we mention: emission reduction, limitation of discharges and consumption and sustainable waste management. The company's driving force is represented by the innovation of continual stream, the design, the production systems, and nonetheless, by the work of women and men of Demac.