Reliability, high-technology and ... uniqueness. These are only three among possible assessments for describing a new product released by Massenza, the Emilian company with loyal customers all over the world! This newest spraying tank is now close to be released to the final customer, company "MUVI Srl" from Roccarainola, near Naples. We are talking about a new generation of spraying tank under "single model homologation" for transportation and application of Polymer Modified Bitumen up to 200°C.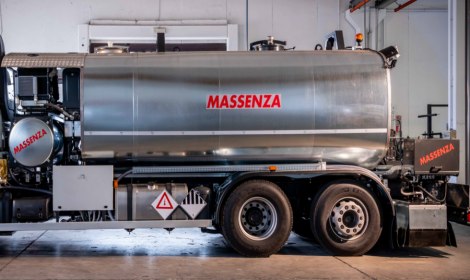 The tank, which will be installed on customer's truck, has a polycentric section, allowing to reach the capacity of 10.000 liters, and it has been manufactured accordingly to ADR regulations. This innovative piece of equipment from Massenza is equipped with a 38 kW water-cooled Kholer-Lombardini diesel engine, connected to the vehicle battery and equipped with an hydraulic system for operating bitumen pump, auger agitator, thermal oil pump and spray bar's height adjustment. The bitumen gears pump is driven hydraulically and submerged in the tank; heating of both bitumen tank and spray bar takes place via an external thermal oil heater of 150.000 kcal/h power, with an automatic 24 V diesel burner and complete with pump for hot oil circulation.
On the other hand, the spray bar has both lateral extensions operated by hydraulic system, with a special device for synchronized opening and closing of the nozzles, allowing a maximum spray width of 4 m. A further touch of class from Massenza: the water storage tank, in stainless steel and with a capacity of 2.000 liters, is separate from bitumen compartment but it is incorporated into a single external structure.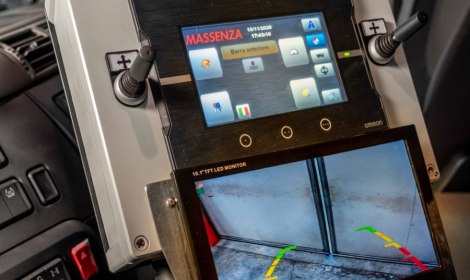 However, among above advantages of this new Massenza tank, it is worth mentioning those connected to technology, starting from the control panel with PLC and Touch Screen compatible with "Industry 4.0" and landing to new "interactivity" factor (modem for remote assistance, GPS, e-mail, etc.). Thanks to the new high-tech interface, which also includes a display connected to a rear-camera, all operational functions have been greatly simplified, as well as the ability to record product data – from quantities to temperatures and pressure – has been enhanced, with a great help on job quality control.