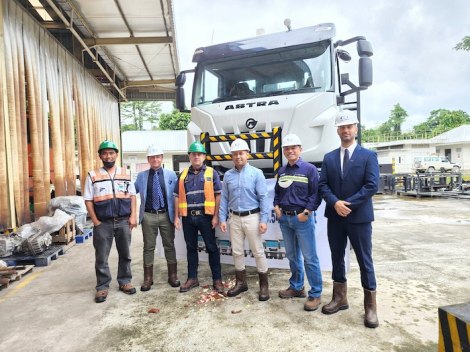 A tractor version of the HHD9 86.54 Astra for mining has been delivered to PT Freeport Indonesia, one of the most important mining companies in the world, which operates in the mountainous areas of Mimika district, Papua province, Indonesia.

More than 300 ASTRA vehicles have already been working for years inside the mines in Papua New Guinea in a 4x4 configuration with an off-road bus set-up for the transport of workers and a 6x4 / 6x6 tractor version. To these was recently added an HHD9 tractor in 8x6 configuration with a combined weight of up to 80 tons for the transport of material from sea level up to 3600 meters above sea level on a dirt path of about 120 km with maximum gradients up to 28%.
The tractor, which has a maximum width of 2.9 meters, is powered by a powerful 540hp 13-liter FPT Industrial Cursor Euro III engine and is equipped with a 12-speed Traxon Torque gearbox with intarder, ideal for for its performance in case of exceptional towing or for distances with high slopes. To support the important work of the powertrain and to cope with the particularly heavy mission, this special version of the tractor is fitted with heavy duty reinforced axles and features an additional cooling system for engine water and gearbox oil.