Passive and active safety at the same time. It is the last frontier touched by the Made in Italy technique, a result that comes from the combination of factors such as experience, research and collaboration. In our case, between Roadlink (www.roadlink.it), a road safety specialist, and Fasipol (www.fasipol.it), a manufacturer of polyurethane solutions.
The solution is called GuardLED® and is a tested and certified polyurethane cladding for barriers, which allows the housing of a roadside lighting profile (without interruption) based on LED technology. In addition to the passive safety of the barrier, compliant with European standards, the active one brought by the LEDs, which accompanies users in night driving conditions or in poor visibility.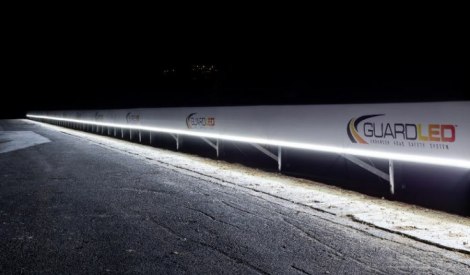 Made of integral polyurethane and of high durability, the device also helps to increase the protection of motorcyclists. Currently, it is available in configurations for N2, H1, H2 barriers, side edge, bridge protection and traffic divider. But the evolution is in full swing. GuardLED® also means innovation from a design point of view and, above all, interactivity, in a pure Smart Road key. In the most advanced version, in fact, the lighting can signal users of any anomaly (accidents, dangerous curves, icy road surface, diminished visibility) through a color variation mechanism. Finally, the future already around the corner, will be the real time dialogue between the barrier and the managers, remotely. Finally, if used in low-speed urban routes, GuardLED® can be easily used for advertising or information initiatives.