Photo Gallery: the Degree Cerimony
Tuesday, November the 24th, at the Mondovì headquarters, the Rector of the Polytechnic of Turin awarded Amilcare Merlo the Honorary Degree in Mechanical Engineering. It is a highly prestigious recognition that is reserved for those who have particularly distinguished themselves:
"For the exceptional technical skills with which he has led the development of numerous innovative projects in the field of mechanics and for the entrepreneurial spirit thanks to which he founded and directs an international company with a great economic and social impact in the territory in which it is rooted".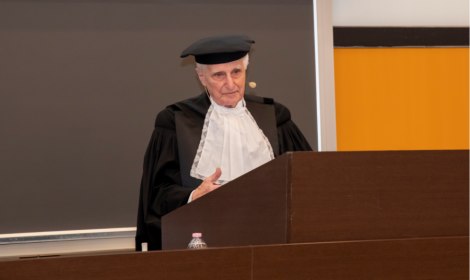 The title of "Honorary Engineer" has a special value, because few are the personalities who have been awarded with it, among these are counted: Giovanni Agnelli, Enrico Mattei, Giorgetto Giugiaro and Sergio Marchionne. It is a great satisfaction and a source of pride for the entire Merlo Group and for all those who in these seventy years of Mr. Merlo's entrepreneurial career, have collaborated with him with commitment and passion to achieve this prestigious goal.